It's the most wonderful time of the year, we're thrilled to announce that the 2023 Magnificent Tours season begins with our first tours on May 20!  We're excited for another season of providing visitors with exceptional tour experiences in the breathtaking destination of Niagara Falls. We invite you to join us on a remarkable journey through one of the world's most awe-inspiring natural wonders.
At Magnificent Tours, we take pride in curating exceptional sightseeing experiences that allow you to immerse yourself in the beauty and grandeur of Niagara Falls. Whether you're a first-time visitor or a seasoned traveler, our expertly crafted tours will leave you with lifelong memories and a deep appreciation for this magnificent destination.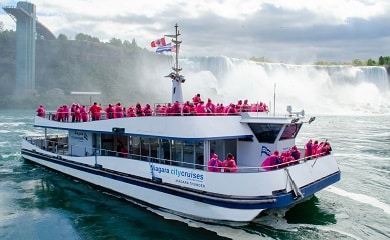 Two thrilling tours are available for the season, our popular BEST Tour which features the "must-see" attractions and is perfect for visitors who are enjoying a short stay in Niagara Falls, for those who can dedicate more time with us during a stay the SCENIC Tour provides more opportunities and adventures.
1. Niagara Falls BEST Tour: Our signature Niagara Falls BEST Tour is designed to showcase the very best of this extraordinary natural wonder in just a few hours. Led by our knowledgeable and friendly guides, you'll embark on an exploration that takes you up close to the thunderous roar of the Falls on a Niagara City Cruises boat tour. Guests embark on a journey to the Falls aboard state-of-the-art catamaran boats to the base of the American and Canadian Falls. Prepare to be amazed as you witness the sheer power and breathtaking beauty of the cascading waters. This short tour also includes Journey Behind the Falls, and a stop at Whirlpool Rapids Observation Deck.  With convenient pick-up and drop-off points at 5 of the best Niagara Falls Hotels, this tour is perfect for those looking for a comprehensive experience in a limited time.
2. SCENIC Day Tours of Niagara Falls: For those seeking a more immersive adventure, our SCENIC Tours of Niagara Falls offers an extended exploration of the region's top attractions. Get ready to witness the mesmerizing Niagara Falls from various angles and perspectives. The tour begins with an iconic Niagara City Cruises boat tour, then the awe-inspiring viewpoint from behind the cascading Falls at Journey Behind the Falls. From there guests travel to Niagara on the Falls to experience Niagara's famed Wine country with a tour and tasting at Canada's first estate winery. Tour guests also receive bonus attraction passes to enjoy beyond the formal tour. Exploration can continue with passes for White Water Walk, Niagara's Fury, and WEGO bus passes to make travel easy. Every moment of this tour is designed to leave you in awe. Delve into the fascinating history, marvel at the natural beauty, and create cherished memories that will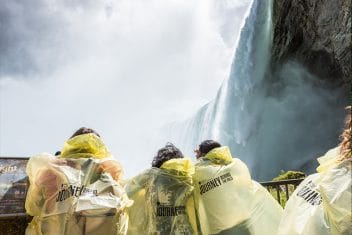 last a lifetime.
Why Choose Magnificent Tours?
Expert Guides: Our experienced and passionate guides are dedicated to providing you with insightful commentary, interesting anecdotes, and insider tips to enhance your tour experience.
Comfort and Convenience: We prioritize your comfort and convenience, ensuring that our tours are well-organized, feature comfortable transportation, and provide hassle-free pick-up and drop-off options.
Unforgettable Experiences: We believe in creating memories that last a lifetime. Our tours are carefully designed to offer a perfect blend of excitement, education, and enchantment, leaving you with unforgettable moments to treasure.
Book Your Niagara Falls Adventure Today!
Ready to embark on an unforgettable journey through Niagara Falls? Don't miss out on the opportunity to witness the sheer majesty of this natural wonder. Explore our Niagara Falls day tour options, check availability, and secure your spot to let us guide you through the mesmerizing beauty of Niagara Falls.