Thrilling New Niagara Falls Tours This Season – Part 2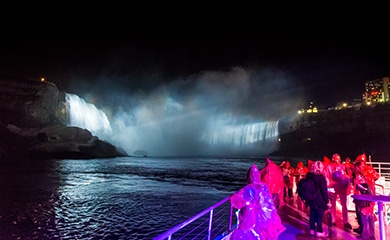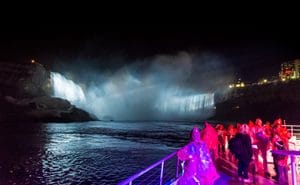 Three new experiences are available for guests to explore this upcoming season.  In part 2 of our series showcasing our new Niagara Falls sightseeing tours, we discover our Three Hour Evening Tour of Niagara Falls.
This adventure departs at 7:00pm each evening an offers spectacular views of Niagara Falls and the surrounding attractions as dusk settles into dark.  This experience features VIP access
to top Niagara Falls attractions, including the best Niagara falls boat tour imaginable.  Visitors will get up close to the mighty Falls with a 45 minute journey aboard Hornblower Niagara Cruises.  This evening cruise allows guests to understand the power, hear the thundering roar and feel the mist of the American Falls, Bridal Veil and Canadian Horseshoe Falls.
In addition to exceptional Niagara Falls boat tours, our Three Hour Evening Tour takes guests 125 feet down to explore the 130 year old bedrock tunnels that travel behind the cascading curtain of the Horseshoe Falls.  This experience provides a unique viewpoint as 1/5th of the world's fresh water crashes down from 13 storeys above.
Guests of this Niagara tour also receive bonus passes for Niagara Skywheel to continue their exploration beyond the tour.  From behind, below to above the Falls guests will see the Falls from all angles on this tour!
A compact series of thrills, our Three Hour Evening Tour of Niagara Falls complements a visit to Niagara Falls.
Up next is our Everything Niagara Falls Tour!