The 3-hour Everything Niagara afternoon outing allows you to experience some of Niagara's greatest attributes and attractions. Start with a visit to Canada's original estate winery including tastings followed by an unforgettable journey to the base of the Falls on the iconic Hornblower Cruise ship. This is the perfect tour to experience Niagara Falls nature and see and feel the waterfalls up-close. Plus, you can see the effects of the rushing waters from a unique vantage point. You also get to see the famed wine country of Niagara Falls and taste some of the world's most delicious wines.
Transportation, expert tour guide and entrance fees included for all attractions.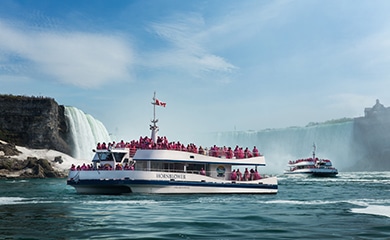 1
Hornblower Niagara Cruises
Take this legendary Niagara Falls boat tour, which has excited visitors for more than 150 years. Hornblower Niagara Cruises offers you an exhilarating new way to experience the breathtaking Niagara Falls. The state-of-the-art catamaran boats take visitors to the base of the American Falls and then on to the basin of the Canadian Horseshoe Falls. You'll wear a poncho on your trip since you'll be so close to all the action. It's a half-hour thrill of a lifetime!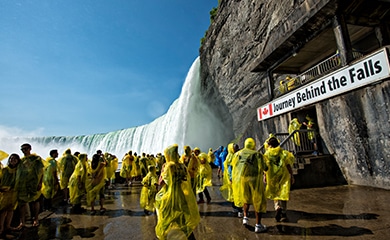 2
Journey Behind The Falls
Journey Behind the Falls is a completely different view of Niagara Falls. Visitors descent 125 feet to explore the bedrock tunnel running directly behind the Canadian Horseshoe Falls. Before you, the mighty river explodes off the brink in a free-fall from more than 13 stories high. A once-in-a-lifetime view as one-fifth of the world's fresh water crashes down in front of you.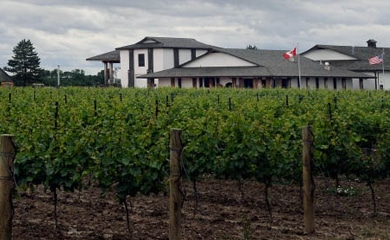 3
Inniskillin Winery
Enjoy a tasting of the finest wines from Canada's original estate winery. Inniskillin Winery has been growing, serving and selling unique Niagara-on-the-Lake wine for more than 35 years. The winery produces a vast selection of award-winning VQA table wines, as well as icewine unique to the Niagara Falls region that's made from grapes still frozen on the vine. On this Inniskillin Winery wine tour, learn all about the wines you're sipping so you can savor the history in each selection.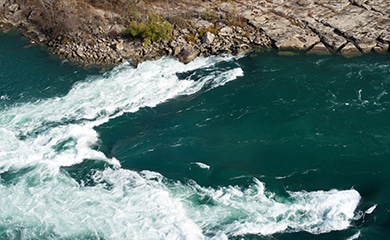 4
Whirlpool Rapids Observation Deck
Stop at Whirlpool Rapids Observation Deck for gorgeous scenic photo opportunities. View the wonder of the Whirlpool class 6 rapids at a unique point from the whirlpool viewing deck. See rushing waters that demonstrate the awe-inspiring power of the Niagara Falls waterfalls. It's a beautiful place to shoot some pictures to remember your trip.
Why Book an Everything Niagara Tour?
There are so many advantages to booking an Everything Niagara Tour. One is that all your transportation is provided. You don't have to worry about coordinating a car or getting directions to navigate. It allows adults to partake in the wine tasting responsibly, as no one will be required to drive. You can sit back and relax in a safe and smooth ride along your tour.
Another benefit is that you get VIP access to all activities. There's no waiting in line or having to wait to buy a ticket. All excursions are already paid for, so you simply walk in and have a wonderful time.
You also get the guidance of an expert tour guide. If you want to learn more about what you're experiencing, our knowledgeable team is here to answer your questions and tell you all you want to know about the global destination that is Niagara Falls.
---
Everything Niagara Tour Is For You!
The Everything Niagara Tour is one of our best-selling couples tours. It's also a popular tour for adult groups and solo travellers. It mixes the fun of getting close to the water of the Niagara Falls waterfalls with some of the best Niagara Falls wine the region has to offer. For this reason, it's also a popular choice for bachelor and bachelorette parties, wedding parties and adults-only excursions for family reunions.
If you want to bring kids on the Everything Niagara Tour, you can. Of course, they won't be able to taste wine at Inniskillin Winery, but they can still enjoy the winery's scenery and have fun on the Hornblower Niagara Cruises trip, Journey Behind the Falls and at the Whirlpool Rapids Observation Deck. If you're looking for kid-friendly tours that don't stop at wineries, we suggest our signature Niagara Scenic Tour, the 3-hour Niagara's Best Tour, the 3-Hour Evening by the Falls Tour and the nature-filled Echoes of Niagara tour.
---
Private Niagara Falls Boat Tours & Wine Tour
If you'd rather visit places and tours like those listed above on your own, let Magnificent Tours take care of the transportation. We'll get you to where you want to go in a safe ride, perfect for large groups, small groups, couples and families.
Magnificent Tours offers customized private Niagara Falls group tours and limousine tours. Our charter shuttle services can accommodate 20-300 people, while the private Niagara Falls limo tours are great for couples and smaller groups.
A benefit to these options is that you can customize your own itinerary, or we can help build one that's perfect for you and your group. Linger as long as you want at each spot, and know that you always have a safe and luxurious ride to take you to the next destination.
---
See Niagara's Famous Falls and Wineries In Style
Niagara Falls is a world-class destination with amazing excursions to offer. At Magnificent Tours, we've been guiding travellers around our beloved area for the past 16 years. Let us take care of your group and show you the best wineries and water adventures Niagara Falls has to offer, on a guided or private tour.
Book your details here. Have questions or want to book a private group or limo tour? Contact us online or call 1-888-614-8687.
---