Quick, Scenic Niagara Falls Tour.
See the sights and feel the thundering waters.
We offer Winter's Best Tour, which includes three top attractions in Niagara Falls; Niagara's Fury and Journey Behind the Falls. This tour is perfect if you only have a few hours to spare and want to visit the best attractions in Niagara Falls. Our tour includes VIP entrance so you don't have to wait in long lines.

One of our expert Tour Guides will lead you through this premium tour experience. Once you hop on you don't have to worry about a thing – except having fun.


---
---
Policies and disclaimers.
Itinerary
In rare situations, we may need to alter the itinerary outlined above due to unforeseen circumstances. In these cases, we reserve the right to replace an attraction that we are not able to make part of your experience with another.
Cancellation Policy
Full pre-payment is required to confirm your reservation. A full refund will be issued when a cancellation request is received 48 hours prior to your reservation. After 48 hours, we are more than happy to reschedule your tour or issue a credit to be used at a later date.
U.S Dollar Payments
Any USD rates quoted on this website are approximate and based on an exchange rate on the day of purchase. Your card will be charged in Canadian dollars.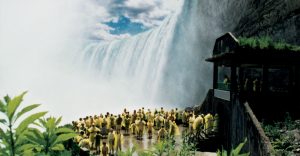 JOURNEY BEHIND THE FALLS
VIP Tour
Journey Behind The Falls consists of a tunnel running directly behind the Canadian Horseshoe Falls. You will journey deep within to touch the heart of Niagara. Before you, the mighty river explodes after free-falling more than thirteen stories. The sound is magnificent; the sight, awe-inspiring. Raincoats are provided.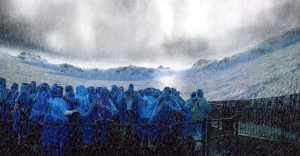 NIAGARA'S FURY
Immersive Attraction Experience
While visiting Niagara's Fury the temperature will drop 20 degrees. Water will bubble and spray while snow falls all around. Standing in the mist on a massive platform you will feel the full wrath of Mother Nature as the floor tilts and trembles beneath you. You'll never look at the Falls the same way again! Niagara Parks has recreated the amazing sights and sounds of the Creation of Niagara Falls. Incredible images produced on a 360-degree screen with technology previously used only in satellites and medicine will immerse you in a 4D-style attraction.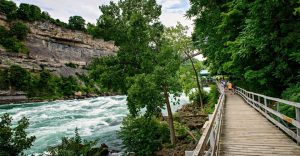 WHIRLPOOL
Stop at the Whirlpool for a photo opportunity
BONUS PASSES: AT YOUR OWN LEISURE
WEGO PASSES
The WEGO is a state-of-the-art bus system helping you travel with ease throughout the city.
NIAGARA SKYWHEEL
Experience breathtaking views of the Horseshoe Falls, American Falls, the City and beyond on the Niagara SkyWheel. This world-class ride is 175 feet tall (53 Meters) and features fully enclosed gondolas, each equipped with heating and air conditioning and large UV protected, non-reflective glass– perfect for taking pictures.