Our Niagara Falls Winter Festival of Lights Tour includes the top winter displays in Niagara Falls; This tour is perfect for families, couples, and anyone that wants to see the Winter Festival of Lights in Niagara Falls.
Transportation, expert tour guide and entrance fees included for all attractions.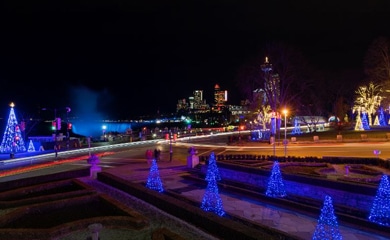 1
Clifton Hill
Start your tour through the historic Clifton Hill area, illuminated in partnership with the OPG Winter Festival of Lights, this is the grand entryway to the Niagara Parks space that we will enjoy.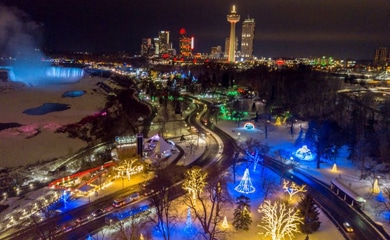 2
Niagara Parkway
Light art displays presented along the Niagara Parkway. A 2.5km stretch of illuminated wonder.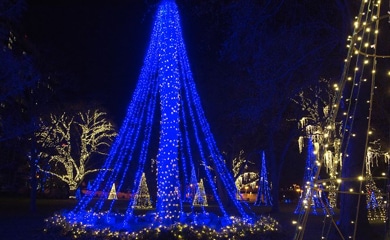 3
Dufferin Islands
Dufferin Islands is transformed into a magical and illuminated forest with light sculptures and a cozy 1.5km loop around the islands and ponds.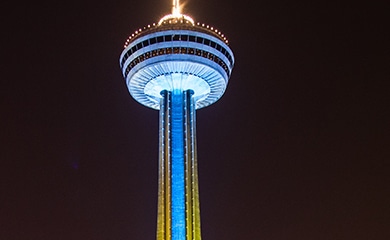 4
Skylon Tower
Look down, it's a world alight with the spirit of the season. Look out, its the majestic Niagara Falls. Dress warm, this observation deck is best enjoyed in the open air from nearly 200 meters above the base of Niagara Falls.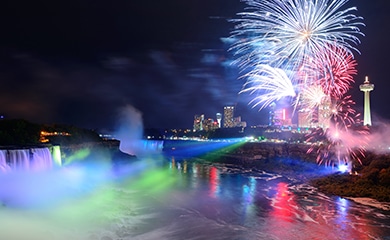 5
Friday Fireworks
The OPG Winter Festival of Lights presents Friday night fireworks which, depending on tour location, will add a special extra that we hope your party will enjoy with us either on the bus or at the Skylon Tower.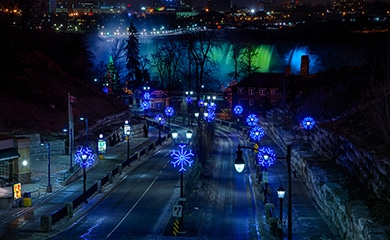 6
Table Rock
Stopping at Tablerock Complex for a unique viewing experience. Get your camera ready for group photos and couples selfies in the heart of the Winter Festival of Lights.