Niagara Falls Winter Scenic Tour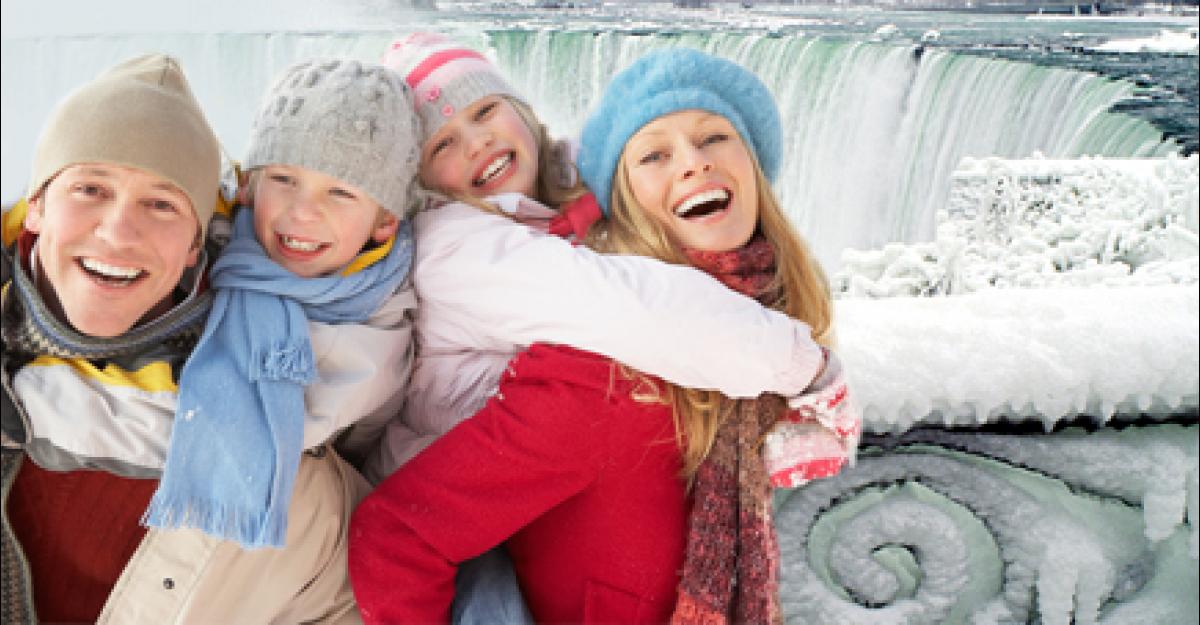 Let us show you the sights and sounds of Niagara with our fully narrated Niagara Falls Winter Scenic Tour. See the sights and feel the roar of Niagara Falls.

2017 Tour itinerary includes admission to the following:
Journey Behind The Falls consists of a tunnel running directly behind the Canadian Horseshoe Falls. You will journey deep within to touch the heart of Niagara. Before you, the mighty river explodes after free-falling more than thirteen stories. The sound is magnificent; the sight, awe-inspiring. Raincoats are provided.
This magical attraction features over 2,000 colourful tropical butterflies floating freely among lush, exotic blossoms and greenery. Paths wind through the rainforest setting, past a pond and waterfall and the Emergence window, where butterflies leave their pupae and prepare to take their first flight!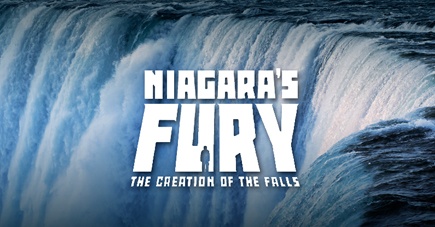 While visiting Niagara's Fury the temperature will drop 20 degrees. Water will bubble and spray while snow falls all around. Standing in the mist on a massive platform you will feel the full wrath of Mother Nature as the floor tilts and trembles beneath you. You'll never look at the Falls the same way again! Niagara Parks has recreated the amazing sights and sounds of the Creation of Niagara Falls. Incredible images produced on a 360 degree screen with technology previously used only in satellites and medicine will immerse you in a "4D" Universal Studios-style attraction.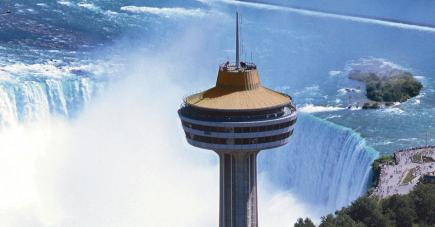 The Skylon Tower is Niagara's tallest total entertainment complex. It includes indoor/outdoor observation of the falls from 233 meters (775 feet) and two great dining rooms both overlooking the Falls. At the base resides Niagara's largest indoor amusement area, Skylon Fun Centre, complete with a food court and 4D Theatre. On the tour you will ride to the top of the tower in its glass enclosed Yellow Bug elevators.
We also include passes to the following for you to enjoy at a later time: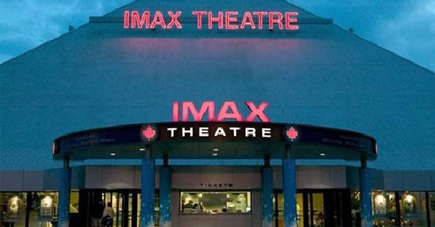 Hear the stories, touch the vessels and then imagine the courage (or the insanity) that it must have taken to climb into a barrel and throw yourself over the edge! The Daredevil Exhibit contains actual barrels and artifacts along with the fascinating stories of the history of Niagara and of the daredevils themselves.
The WEGO is a state-of-the-art bus system helping you travel with ease throughout the city.
You may also drive by:
Mt. Carmel Monastery, Marineland, Harry Oakes Estate, Water Control Dam, Dufferin Islands, Old Scow, Toronto Power Plant, Niagara Parks Greenhouse, Canadian Horseshoe Falls, Bridal Veil Falls, American Falls, Table Rock, Goat Island, Luna Island, Queen Victoria Park, Inspiration Point, Casino Niagara, Harry Oakes Amphitheatre, Carillon Tower, Rainbow Bridge, Schoellkopf Disaster Site, Lower Rapids Bridge, Great Gorge Adventure, Whirlpool Rapids, Whirlpool, Niagara Helicopters, Whirlpool Golf Course, Niagara glen, Robert Moses Power Plant, Lewiston/Queenston Bridge, Floral Clock
Why choose a Magnificent Tour? Once you hop on our bus you don't have to worry about a thing – except having fun. We take care of the driving so you don't have to worry about directions or parking. We also have priority access to Niagara Falls attractions which means you get to bypass long lines and avoid long wait times.
Pricing:


Adults
Children 6-12 years
$86
$44
USD* + taxes & fees
$115
$58
CAD + taxes & fees
Children under 5
RESERVE NOW
CALL TO RESERVE
1-888-614-8687
Let us show you the sights and sounds of Niagara with our fully narrated Niagara Falls Winter Scenic Tour. See the sights and feel the roar of Niagara Falls. The Niagara Falls Winter Scenic Tour is our 4-hour signature tour. Experience the majesty and power of Niagara Falls.
Duration: 4 hours (approximately)
Departure Times
* USD rate is approximate. Based on an exchange rate day of purchase. Your card will be charged in Canadian dollars.
CANCELLATION POLICY
Full pre-payment required to confirm your reservation. A full refund will be issued when cancellation request is received 48 hours prior to your reservation. After 48 hours, we are more than happy to reschedule your tour or issue a credit to be used at a later date.